Last night we crossed over the border, into Devon, for a wedding ceilidh at the beautiful Bradstone Manor. Our bride and groom for the evening were Jenifer and Simon. This was our first ceilidh at Bradstone and we instantly fell in love with its charming, elegant beauty.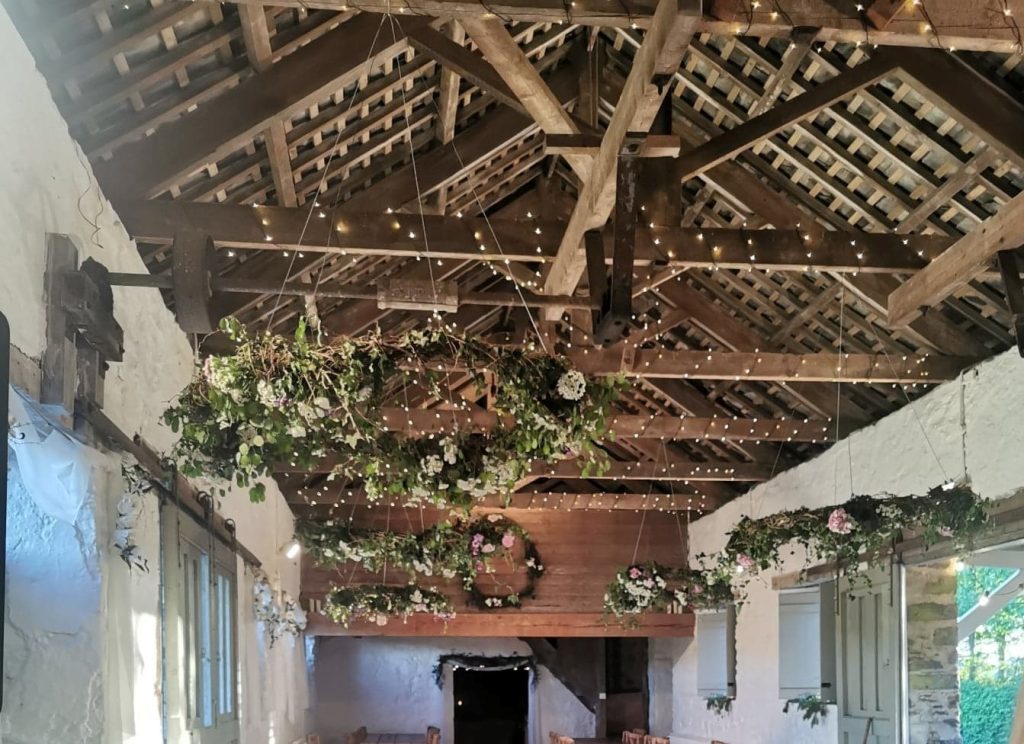 It was immediately clear that we had some avid folk fans in the house! Setting up for our sound check we could hear a Rura track. Belted out, by the groom, from the courtyard.
The First Dance
Jennifer and Simon had given us some specific requirements for their first dance, a request we often get. (Gone are the days when people enjoy awkwardly shuffling around to Ed Sheeran, with their every wobble tracked by a hundred mobile phones).

They wanted a dance:
With a longways set, so everyone could dance together. Without too much attention on them, so they could just enjoy the dance.
That was lots of fun (easy we only do fun dances!).
So, we started off with Riverside Jig! A simple dance where you get to whoop, a lot. But, also run the risk of potentially decapitating a fellow wedding goer. There's no fun without a bit of risk, right?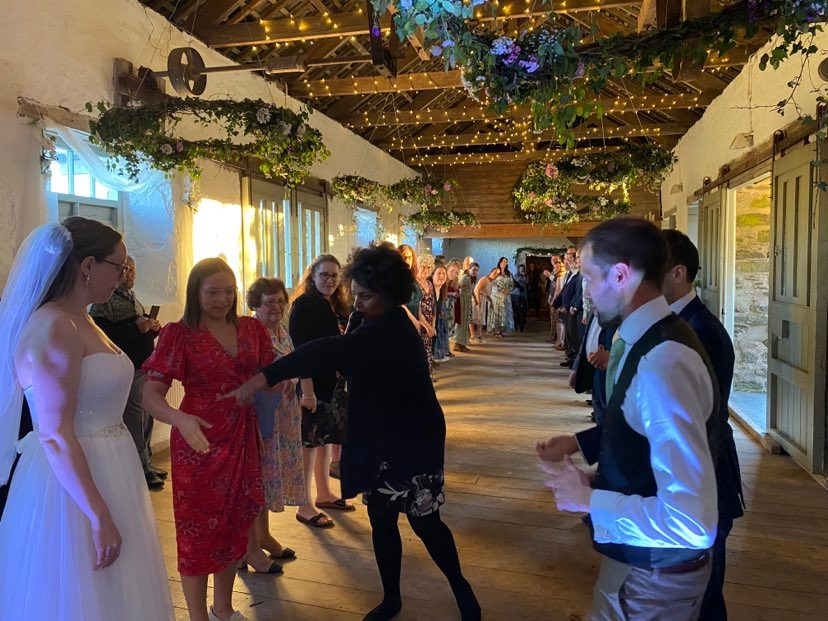 The dance went down a treat for both the experienced ceilidh dancers and ceilidh virgins. Everyone managed to duck the charging arches in time too, phew! We were off to a pretty impressive start and the dance floor was still full when we moved on to our second dance, a Cornish Dance, Pendeen Prom. It might have been a Devon wedding ceilidh, but we still love to show off some of our Cornish favourites!
The Perfect Devon Wedding Ceilidh
The rest of the night was a dream. We had our competition dance, Old Hand in Hand, which was unsurprisingly won by the bride (she was pretty good!). We breezed through Borrowdale Exchange, the Cheeky Dance, St Bernard's Waltz and the Gay Gordons before landing on our penultimate dance, Cumberland Square Eight. This is not the easiest of dances, as it contains the dreaded basket. But, as you can see, our full floor of intrepid dancers were not put off!
We finished the night, as always, with an epic strip the willow. With each couple making it down the barn length set at least twice. And, it seems the venue owners were as enamored with our ceilidh as we were with their venue!
"It was really great meeting you…fantastic Ceilidh band A great fun evening to end a truly beautiful wedding!"

Country Readings Bradstone
Sounds interesting, then why not get a quote?
If you're interested in a having a ceilidh at your wedding in Devon, Cornwall or even further afield, why not get in touch for a chat?